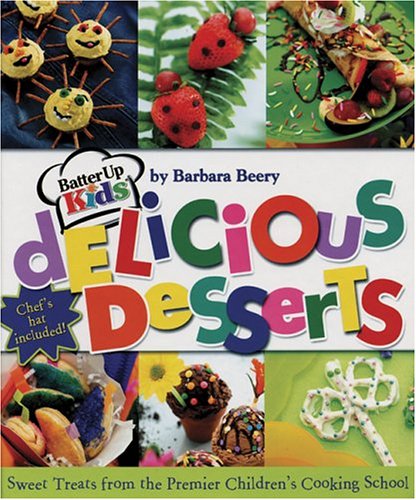 Gibbs Smith Publishers, April 2004
Hardcover, Spiral-Bound, 68 pages
ISBN: 1586853651
Recommended Ages: 9 - 12
Ordering Information:
Amazon.com
CANDY-COATED DRAGONFLIES
Makes 8 dragonflies
1 pound vanilla candy coating or vanilla almond bark (use 8 to 10 squares)
Food coloring, optional
8 (8-inch) pretzel rods
16 large classic-shaped pretzel twists
Assorted decorating sugars or sprinkles
Melt candy coating according to package directions. Remove from heat and pour into 2 or 3 small bowls. You may add 2 to 4 drops of food coloring to each bowl. Stir to blend color.
Place pretzel rods on foil-lined cookie sheet sprayed with nonstick cooking spray (about 3 inches apart from each other). These are the dragonflies' long bodies. Carefully spoon the warm melted candy coating over each pretzel rod to cover completely.
Now dip each pretzel twist in the candy coating and place one on each side of the upper half of the pretzel rod. The pretzel twists should actually rest on top of the pretzel rod and just barely touch one another. This forms the dragonfly's wings.
Sprinkle each dragonfly pretzel with colored sugars or sprinkles. Place cookie sheet in freezer for 5 to 10 minutes to allow candy coating to harden on pretzels. Remove from freezer and carefully take each dragonfly off cookie sheet to serve.
Don't let them fly away before you have a chance to take a bite!
LADYBUGS ON-A-STICK
Makes 12 ladybugs
12 seedless red or green grapes
12 (6- to 8-inch) wooden skewers or colored toothpicks
12 whole strawberries with stems
1 package mini-morsel chocolate chips
Place a grape on a wooden skewer, sliding it all the way to the end of the stick. This is the ladybug's head. Next place the strawberry on the skewer, stem end first, and slide it down to touch the grape. This is the ladybug's body. Lay the ladybug down and carefully push the pointed ends of several chocolate chips into the strawberry to make the ladybug's spots.
Now you have a ladybug on-a-stick!
Blast-Off Blueberry Biscuits
Makes 16 servings
1 can large-size refrigerator biscuits
1 cup canned blueberry pie filling
1/4 teaspoon ground nutmeg
1/4 teaspoon almond extract
1 teaspoon ground cinnamon mixed with 1/4 cup sugar
Preheat oven to 375 degrees.
Spray a 12-cup muffin tin with nonstick cooking spray. Divide each biscuit in half. Press half biscuit in bottom of each muffin cup, covering bottom completely. In a small bowl, combine blueberry pie filling, nutmeg, and almond extract. Spoon 1 tablespoon of the blueberry pie filling on top of each biscuit half. Cover the top of the blueberry filling with the other half of the biscuit. Sprinkle each biscuit with a little of the cinnamon-sugar mixture.
Bake for about 15 minutes. Serve warm.
Blast off with an out-of-this-world flavor!
Recipes from Batter Up Kids: Delicious Desserts
by Barbara Beery
(Gibbs Smith, Publisher; $19.95/hardcover; April 2004)
Read Sherri Allen's review of Batter Up Kids: Delicious Desserts