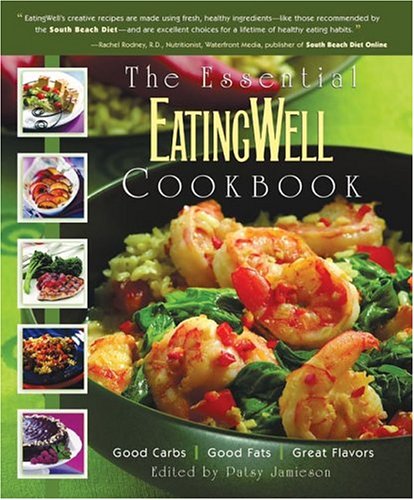 The Countryman Press, September 2004
Hardcover, 256 pages
ISBN: 0881506303
Ordering Information:
Amazon.com
Braised Lamb with a
Garden-Vegetable Medley
This stew, which would be called a navarin or ragoût in France, features seasonal lamb and uses tender spring vegetables to add a fresh flavor to the mix. While braised dishes require a little time commitment, they are well suited to advance preparation and are perfect for entertaining.
Makes 6 servings, about 1-1/3 cups each
Prep time: 25 minutes; start to finish: 2-1/4 hours; ease of preparation: moderate. To make ahead: The stew will keep, covered, in the refrigerator for up to 2 days or in the freezer for up to 3 months. Reheat on stovetop, in microwave or oven.
2-1/2 pounds boneless lamb leg, trimmed of fat and cut into 2-inch cubes
1/2 teaspoon salt, or to taste
Freshly ground pepper to taste
1 tablespoon extra-virgin olive oil
1 medium carrot, finely chopped
1 small onion, finely chopped
1 tablespoon all-purpose flour
1-3/4 cups dry red wine
1 cup reduced-sodium beef broth
1 14-1/2-ounce can diced tomatoes
4 cloves garlic, minced
1 tablespoon finely chopped fresh rosemary
1 cup pearl onions, peeled (see Tip), or frozen small onions, rinsed under warm water to thaw
1 cup baby turnips, peeled (1/4-inch of green left on) and halved, or regular turnips cut into 1/2-inch wedges
1-1/2 cups baby carrots
1-1/2 cups peas, fresh or frozen
2 tablespoons chopped fresh parsley
Season lamb with salt and pepper. Heat oil in a large deep skillet or Dutch oven. Add lamb and cook, turning from time to time, until browned on all sides, about 6 minutes. Transfer to a plate.
Add carrot and onion to the pan; cook, stirring often, until lightly browned, about 3 minutes. Sprinkle flour over the veg­etables; stir to coat. Add wine and scrape up any browned bits. Simmer until reduced slightly, 2 to 3 minutes.
Add broth, tomatoes, garlic and rosemary; bring to a simmer. Return the lamb to the pan. Reduce heat to low, cover and simmer for 1-1/4 hours, checking from time to time to make sure it does not boil too rapidly.
Stir in pearl onions, turnips and carrots. Simmer, covered, until the vegetables are tender, about 30 minutes. Add peas and heat through. Sprinkle with parsley and serve.
Tip: To peel Pearl Onions: cook for 1 minute in boiling water. Drain. Peel when cool enough to handle.
per serving: 384 calories; 11 g fat (4 g sat, 5 g mono); 119 mg cholesterol; 22 g carbohydrate; 38 g protein; 5 g fiber; 388 mg sodium.
Chocolate-Hazelnut Cake
Turn this moist, dense and truly chocolaty cake into an elegant dessert by garnishing each serving with a dollop of whipped cream, some fresh raspberries and a light dusting of cocoa. To make a light cream topping, drain low-fat vanilla yogurt and fold in a little whipped cream. Note that this cake does not contain any leavening: beaten egg whites alone are used to lighten it.
Makes 12 servings
Prep time: 1 hour; start to finish: 2-1/2 hours; ease of preparation: moderate (some baking skills required).
Cake
1/2 cup chopped pitted dates
1/2 cup unsweetened cocoa powder
1 teaspoon instant coffee granules
1/2 cup boiling water
1/2 cup chopped hazelnuts, plus 2 tablespoons for garnish
2 slices firm white sandwich bread, crusts trimmed
1/3 cup all-purpose flour
1/4 teaspoon salt
2/3 cup sugar, divided
2 tablespoons canola oil
1 teaspoon vanilla extract
1 large egg
3 large egg whites
Glaze
1/3 cup unsweetened cocoa powder
2 ounces bittersweet (not unsweetened) or semisweet chocolate, finely chopped (1/3 cup)
1 tablespoon corn syrup
1 teaspoon instant coffee granules
1/4 cup boiling water
1/2 teaspoon vanilla extract
1 cup confectioners' sugar
To prepare cake: Preheat oven to 350 degrees. Coat a 9-inch round cake pan with cooking spray. Line the bottom with parchment or wax paper.
Combine dates, cocoa and instant coffee in a small bowl. Add boiling water and stir until cocoa has dissolved. Cover and let stand until dates have softened and mixture has cooled to room temperature, about 20 minutes.
Meanwhile, spread hazelnuts in a shallow baking dish and bake until fragrant and lightly toasted, 5 to 10 minutes. Transfer to a plate and let cool.
Grind bread into fine crumbs in a food processor. Measure to make sure you have 1/2 cup. Transfer to a large bowl. (No need to wash the workbowl between steps.)
Place 1/2 cup hazelnuts in the food processor. Add flour and salt; process until nuts are finely ground. Transfer to the bowl with the breadcrumbs.
Scrape the cooled date mixture into the food processor. Add 1/3 cup sugar, oil, vanilla and whole egg; process until smooth, stopping several times to scrape down the sides of the workbowl. Scrape the mixture into the bowl with the breadcrumbs and nuts. Mix gently with a rubber spatula.
In a large clean mixing bowl, beat egg whites with an electric mixer until soft peaks form. Gradually add remaining 1/2 cup sugar, beating until stiff, glossy peaks form. Add one-fourth of the beaten whites to the batter and whisk until blended. Fold in the remaining whites with a rubber spatula just until blended. Scrape the batter into the prepared pan, spreading evenly.
Bake until the top springs back when touched lightly, 25 to 35 minutes. Let cool in the pan on a wire rack for 5 minutes. Spray the rack with cooking spray and invert the cake onto it to cool completely.
Meanwhile, to prepare glaze: Combine cocoa, chocolate, corn syrup and instant coffee in a medium bowl. Add boiling water and stir with a wooden spoon until the chocolate has melted and the mixture is smooth. Stir in vanilla. Gradually add confectioners' sugar to the chocolate mixture, beating with an electric mixer, slowly at first, then gradually increasing speed, until the glaze is smooth and thickened. (The mixture may seem lumpy at first, but it will smooth out.) Cover with plastic wrap and let sit at room temperature until the mixture is set, about 30 minutes.
To finish the cake, place it bottom side up on a serving plate. Place several strips of wax paper under the bottom edge to protect the plate from drips. Spoon on glaze and spread it evenly over the top and sides of the cake with an icing spatula or knife. Arrange the remaining 2 tablespoons hazelnuts around the top outside edge. Discard the wax paper before serving.
per serving: 233 calories; 9 g total fat (2 g sat, 5 g mono); 18 mg cholesterol; 380 carbohydrate; 5 g protein; 4 g fiber; 82 mg sodium.
These recipes may be reproduced with the following credit:
Recipes from The Essential EatingWell Cookbook
Edited by Patsy Jamieson
(Countryman Press; September 2004; $29.95/Hardcover)