During the hot days of summer, we all appreciate the cooling effect of sweet, juicy watermelon. Here are some easy recipes to help you add more watermelon to your summer menu.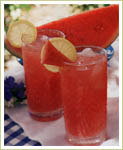 Watermelon Lemonade
A refreshing twist on an all-time favorite.
6 cups watermelon cubes (seeds removed)
1/4 cup raspberries
1 cup water
1/3 cup sugar
1/2 cup lemon juice
Place watermelon, raspberries and water in container of electric blender, cover and blend until smooth. Strain through fine mesh strainer into pitcher. Stir in sugar and lemon juice until sugar dissolves. Refrigerate until chilled, about 1 hour.
Makes 4 servings
Preparation Time: 20 min. Chilling Time: 1 hr.
Per serving: 151 Calories 37g Carbohydrate 2g Protein
1g Fat 2g Dietary Fiber 12mg Sodium 0mg Cholesterol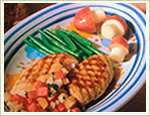 Caribbean Salsa
A wonderful addition to grilled chicken.
2 cups chopped seeded watermelon
1 cup chopped fresh pineapple
1 cup chopped onion
1/4 cup chopped fresh cilantro
1/4 cup orange juice
1 tablespoon chopped jalapenő pepper (or to taste) or jerk seasoning
In a large bowl combine ingredients; mix well. Refrigerate, covered, at least 1 hour to blend flavors. Stir before serving.

Makes 8 servings
Per Serving: 34 Calories 1g Protein 0g Fat
0mg Cholesterol 3mg Sodium




Recipes provided by National Watermelon Promotion Board
For more great watermelon recipes, tips and information, visit their website at www.watermelon.org.

send feedback to: feedback@sherriallen.com

.