Paramount Home Video, October 2004
DVD, 291 minutes
Rating: Not Rated
ASIN: B0002V7OHO
Recommended Ages: 2 - 5
More Information:
Amazon.com

Review by Sherri Allen: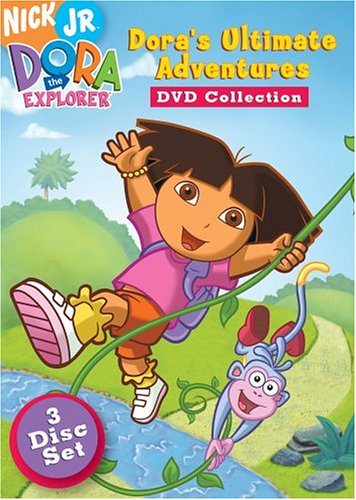 "We did it, we did it, we did it, yea!" Your children will be ready to celebrate when they help Dora and her best friend, Boots, meet exciting challenges and arrive at the varied destinations found in "Dora's Ultimate Adventure Collection."
This 3 volume set is made up of the Dora the Explorer favorites Map Adventures, Rhymes and Riddles and City of Lost Toys.
Map Adventures contains the following stories:
Lost Map: Dora and Boots set off to rescue the Map after it is taken by a nest-building bird.
Super Map: The Map becomes a superhero and helps Dora reach her super surprise.
Three Little Piggies: The piggies escape from their pen. Dora and Boots hurry to round them up and put them back where they belong before Swiper the Fox can swipe their presents.
Lost and Found: A game of hide-and-seek turns into a mission to find baby bluebird's mommy.
Rhymes and Riddles contains the following stories:
Dora Had a Little Lamb: Dora and Boots meet nursery-rhyme friends as they help little lamb get back to Mary.
Call Me Mr. Riddles: Boots wants to win the Silliest Riddle contest, so he and Dora embark on a riddle-filled journey to Tallest Mountain, the site of the contest.
Backpack: Dora takes us back in time to Boots' and her first, very exciting adventure with Backpack.
Big River: Dora and Boots make their way down the river all the way to the waterfall to retrieve Boots' lost boot.
City of Lost Toys contains the following stories:
The Lost City: Dora and Boots journey all the way to the Lost City to find Dora's missing teddy bear.
Lost Squeaky: Boots loses his favorite toy. Dora and Boots rush to recover it before it's too late.
Berry Hunt: Dora and Boots find their thrill on Blueberry Hill when they venture to the home of sneaky Swiper the Fox in search of yummy blueberries.
Sticky Tape: Benny the Bull's hot air balloon ride becomes a chase as Dora and Boots hurry to save him.
The stories in "Dora's Ultimate Adventure Collection" are both entertaining and educational. Preschoolers love the characters and the adventures. They love how the characters invite them to participate in the action. They are proud of the fact they have a hand in Dora and Boots accomplishing their goals, whether it's finding Dora's lost teddy bear, reuniting Mary with her little lamb or just going home. They love learning a few Spanish words, which fosters their curiousity about and acceptance of other cultures. They love learning sequencing and logic skills, even though they don't have any idea that is what they are doing.
In addition to the stories, the DVDs in "Dora's Ultimate Adventure Collection" contain special features. A riddle game and a couple flash card games provide interactive fun. There are also two short episodes from Noggin's Oobi for added entertainment.
Perfect for children who can't get enough of Dora the Explorer (and, really, that means almost ALL preschoolers), "Dora's Ultimate Adventure Collection" provides an abundance of self-esteem building, educational entertainment.