Black Dog & Leventhal, September 2004
Paperback, 192 pages
ISBN: 1579123910
More Information:
Amazon.com
Review by Sherri Allen: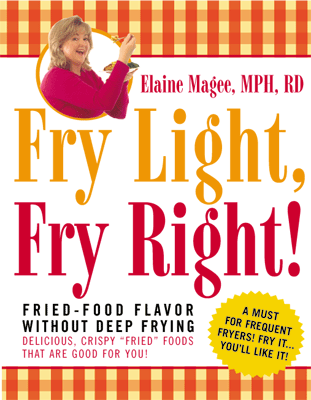 We all love fried food. We love it for the flavor; we love it for the crunch. Unfortunately, with the rise of serious health problems like heart disease and diabetes, many of us are forced to forgo our favorite fried foods in order to avoid excess fat. Dietician and nutritionist Elaine Magee, admitted lover of all things fried, shares her approach to healthier fried food in "Fry Light, Fry Right!" This book is aimed at those who are willing to take a chance on a different way of approaching and preparing fried food.
The recipes in "Fry Light, Fry Right!" are all reduced-fat versions of traditionally fried favorites. You will be delighted to find, however, that the fat and calories are the only things that are reduced. The dishes are full of flavor and texture. Even the most devout fried food lover is sure to enjoy Restaurant Cheese Fries, Easy Oven Potato Chips, Oven-Baked Coconut Shrimp with Fresh Pineapple Salsa and Finger-Lickin' Good Chicken. There are even "fried light" desserts, like Spiced Apple Cider Fritters and Mexican Bunuelos.
Each recipe is accompanied by nutritional analyses comparing the traditionally-fried dish to its "fried light" counterpart. You will often be amazed by the reduction in calories, fat and cholesterol when the dishes are prepared using Magee's techniques.
If you have a health problem that necessitates reducing fat in your diet or if you just want to try a more healthful approach to preparing food, I recommend "Fry Light, Fry Right!" It gives you a great way to eat right without feeling deprived.
See selected recipes from Fry Light, Fry Right!