Disney Sound, February 2005
DVD, 45 minutes
Rating: Not Rated
ASIN: B0007MU1K0
Recommended Ages: 3 - 6
More Information:
Amazon.com
Review by Sherri Allen: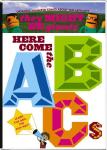 Using one of the freshest approaches to teaching children the alphabet, Here Come the ABCs, a new DVD from the Grammy-winning duo They Might Be Giants, is a sure hit.
With its eclectic and eccentric mix of songs, Here Come the ABCs teaches children to recognize the letters of the alphabet, introduces them to the relationships between letters and even exposes them to a little geography. Children are invited to participate in the action with an animated game of alphabet hide-and-seek in Can You Find It? They are encouraged to identify letters in Letter/ Not a Letter. In QU, my 3-year old's personal favorite, children will see that Q and U usually show up as a pair. Alphabet of Nations will take them on a letter-filled trip around the world.
The songs on Here Come the ABCs are smart and clever. The visuals are strong, graphic and bold. The animations reflect the hip creativity you'd expect from a team that includes professionals from MTV and Disney. Nothing about Here Come the ABCs talks down to the children or fails to appreciate their intellect.
The two John's of They Might Be Giants, John Flansburgh and John Linnell, have created an intelligent and inventive DVD that will inspire intelligent and inventive children.
Here Come the ABCs is also available on CD.
DVD CD

---
Related Articles:
Book Review: How Many Elephants

Help Your Children Love Reading

Book Review: When the Moon Smiled

More articles...