Candlewick Press, June 2005
Hardcover, 32 pages
ISBN: 0763626813
Recommended Ages: 4 - 8
More Information:
Amazon.com
Review by Sherri Allen: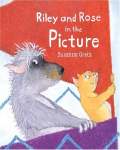 The children's storybook "Riley and Rose in the Picture," written and illustrated by Susanna Gretz, provides an entertaining lesson in the value of respecting the ideas of others, even if they are different from our own.
Riley the dog and Rose the cat see things very differently. Riley and Rose are drawing pictures together, but they don't agree on exactly what it is they're drawing. Where Riley see dots, Rose sees raindrops. Where Rose sees tents, Riley sees triangles. Their disagreement gets so bad, they end up fighting until they destroy the very thing they're fighting over, their picture. Finally, they realize they shouldn't be fighting. They both make simple concessions that allow them to work together as friends, ending up happy and satisfied.
The pictures deftly illustrate the story, visually reinforcing the concept that two differing opinions can both be right. The reader gets to see for himself that dots can also be raindrops and that tents can also be triangles.
"Riley and Rose in the Picture" disguises a character-building lesson as a fun story. It is a very good choice for those who value making the most of the time they spend reading with their children.
---
Related Articles:
Book Review: All Together Now

Help Your Children Love Reading

Book Review: Bad Dog Max!

More articles...