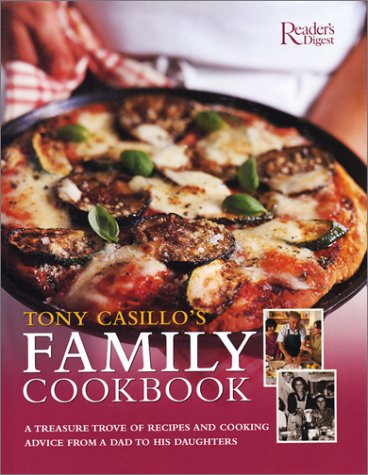 Readers Digest, June 2003
Hardcover, 256 pages
ISBN: 076210404X
Ordering Information:
Amazon.com
Mozzarella Fritters
Tony Casillo's supremely appetizing alternative to frozen factory made mozzarella sticks.
Serves 4
4 large eggs
Salt
All-purpose flour
1 cup dried bread crumbs
1 pound fresh mozzarella cheese, drained and cut into 2- x 3/4-inch strips
Sunflower oil for frying
Beat the eggs in a shallow bowl with a pinch of salt. Place the flour on a plate and the bread crumbs on another plate. One by one, dip each cheese strip in the flour and then in the eggs, shaking off excess flour and letting excess egg drip back into the bowl. Then dip into the bread crumbs, covering completely with the crumbs. Set aside the cheese strips to dry. When you are ready to fry, heat 1/4-inch oil in a large skillet over high heat until it reaches 350 degrees, or until a 1/2-inch cube of bread browns in 30 seconds. Working in batches, if necessary, to avoid overcrowding, fry as many cheese strips as will fit in a single layer until golden, about 3 minutes. Turn over and fry the other sides until golden, about 3 minutes longer. Remove from the skillet and drain on paper towels. Add more oil to the skillet, if necessary, and continue until all the cheese strips are fried.
TONY'S TIP for frying cheese: It's important to make sure cheese is completely covered when it is fried; otherwise it will melt and leak into the oil, which will produce a strong smell.
Grandma Simone's Caesar Salad
The Casillo family version of the famous salad created in 1924 at Caesar's Place in Tijuana, Mexico, by Italian immigrant and restaurant owner, Caesar Cardini. Grandma's is better.
Serves 4
For the salad:
1 garlic clove, cut in half
4 slices Italian bread, toasted
1 head romaine lettuce
3 tablespoons grated Parmesan cheese
For the dressing:
3 anchovy fillets in oil, chopped
1/4 cup olive oil
1 tablespoon white wine vinegar
Juice of 1/2 lemon
Rub one garlic half gently over the toasted bread. Cut the bread into bite-sized pieces; set aside. Rub the remaining garlic around the inside of a large salad bowl. To make the dressing, mash the anchovies in the bowl with a fork. Beat in the olive oil, vinegar, and lemon juice. Tear the lettuce into individual leaves and add to the bowl with the dressing. Toss the leaves until coated. Sprinkle the Parmesan and toasted garlic croutons over.
TONY'S TIP for spicing up salads: Whether you are making a green or mixed salad, turn it into something special with some herbs. Try adding chives, cress, watercress, parsley, fennel, or even a couple of basil leaves.
Seduction Linguine
Tony created this simple, luscious dish for his wife Carol one sunny afternoon when their girls were away. It works like a charm, especially when served with a bottle of dry white wine.
Serves 4-6.
1/4 cup olive oil
2 garlic cloves cut in half
2 medium yellow bell peppers, seeded and sliced
5-7 tablespoons all-purpose flour
12 large raw shrimp, shelled and deveined
12 scallops
' cup brandy
2 medium tomatoes, peeled, seeded, and diced
1 pound dry linguine
1/4 cup light cream
Salt and freshly ground black pepper
2 tablespoons chopped flat-leaf parsley or fresh basil
Heat the oil in a large skillet over medium heat. Add the garlic and sauté until golden, 1-2 minutes; remove and discard the garlic. Add the peppers to the skillet and sauté until tender, about 5 minutes; remove and set aside. Reduce the heat to medium-low. Put the flour on a plate. Lightly dredge the shrimp and scallops in the flour. Add the shrimp to the skillet and sauté until they turn pink and curl, about 10 minutes; remove and set aside. Add the scallops to the skillet and fry until just opaque, about 1' minutes on each side; remove and set aside. Increase the heat to high. Add the brandy to the skillet and bubble until reduced by half. Stir in the tomatoes and a couple of tablespoons water and leave the sauce to bubble a couple of minutes longer.
Meanwhile, bring a large saucepan of salted water to a boil. Add the linguine, stir, and continue boiling until the linguine is firm-tender, about 10 minutes, or according to package directions. Reduce the heat under the sauce to low. Return the peppers, shrimp, and scallops to the sauce and warm through gently. Stir in the cream and take off the heat. Season to taste with salt and pepper. Drain the linguine, shaking off the liquid. Stir into the sauce and sprinkle with the parsley or basil.
Grandma Flo's Red Soup
Easy to make and open to many variations, this one-pot dish is a Casillo family staple.
Serves 4-6
3 pounds beef bones and beef chuck
2 large celery stalks, chopped
2 medium carrots, peeled and chopped
1 medium onion, chopped
1 can (12 ounces) cream of tomato soup, or 1 can (2 ounces) tomato paste
Salt and freshly ground pepper
Water
Combine the beef bones and meat, celery, carrots, onion, soup or paste, and salt and pepper in a large saucepan. Pour in enough water to cover and bring to a boil, skimming the surface as necessary. Reduce the heat to low, cover, and simmer until the meat is tender, 1' to 2 hours. Strain the soup through a colander set over a large bowl in the sink. Remove and reserve the beef chunks, but discard the other solid ingredients. Using a large metal spoon, skim any fat from the surface of the broth. Return the broth to the washed saucepan over medium-high heat and heat through.
TONY'S TIP for 'souper'extras: For a more interesting version of Grandma Flo's Red Soup, add some of the following ingredients:
Pastina. Bring the strained broth to a boil, add a handful of pastina, and cook until tender, about 10 minutes.

Vegetables. Bring the strained broth to a boil, add a peeled and diced potato and chopped celery stalk to the broth and cook until tender, about 30 minutes.

Meat. Dice some of the cooked meat and add it to the strained soup.

Barley. Add a cup of cooked barley to the broth before serving.
Recipes from TONY CASILLO'S FAMILY COOKBOOK
A Treasure Trove of Recipes and Cooking Advice
from a Dad to his Daughters
by Tony Casillo (Reader's Digest; May 2003; $30.00/hardcover).
Read Sherri Allen's review of Tony Casillo's Family Cookbook