Readers Digest, June 2003
Hardcover, 256 pages
ISBN: 076210404X
Ordering Information:
Amazon.com
Review by Sherri Allen: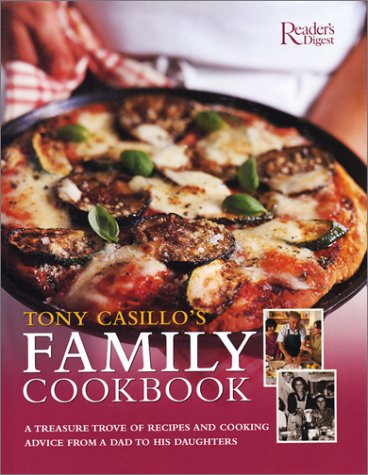 In today's fast-paced world, the dinner choice for many is something from the nearest fast food restaurant. Fortunately for us, Tony Casillo wanted better for his daughters. Casillo wrote Tony Casillo's Family Cookbook: A Treasure Trove of Recipes and Cooking Advice From a Dad to His Daughters as a gift for his girls, to remind them how quick and easy it can be to prepare "decent, wholesome food."
Casillo's family emigrated to America from Italy when he was 12 years old, so the dishes are predominantly Italian. There are recipes for tasty, simple dishes like Bruschetta, Spaghetti with Garlic and Oil, Beef with Tomatoes, Gina's Salmon Parcels, Grandma Casillo's Zucchini, Brown Sugar Potatoes and Almond Biscotti. Osso Buco, Gina's Roast Pork with Mushrooms and Marsala, Lamb Ambruzzi Style, Elegant Livorno Fish Stew, Artichokes Roman Style and Neopolitan Ricotta Pie are some of the more elegant dishes which are perfectly suited for family celebrations. Of course, there are also recipes for great Italian classics such as Antipasto, Risotto, Lasagne, Flour Gnocchi and Zabaglione.
Part of the appeal of Tony Casillo's Family Cookbook is Casillo's relaxed attitude toward cooking. In the notes accompanying a recipe for Chicken Cacciatore, Casillo writes "if you don't like anchovies, leave them out...If you don't like olives, leave those out as well." There are variations listed for many of the recipes; eight variations are provided for Crushed Tomato Sauce alone. Casillo even includes a "basic formula for vegetable soup, so you can make your own creations." What truly makes this book a treasure, however, are the many old family photos and anecdotes sprinkled throughout the pages.
The recipes are easy to follow and Casillo's fatherly advice regarding ingredient selection and preparation is always helpful. With its emphasis on enjoying good meals as part of our everyday lives, Tony Casillo's Family Cookbook is an excellent cookbook for novices and advanced cooks alike.
See selected recipes from Tony Casillo's Family Cookbook