Candlewick Press, July 2006
Hardcover, 48 pages
ISBN: 0763622621
Recommended Ages: 4 - 8
More Information:
Amazon.com
Review by Sherri Allen: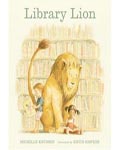 Library Lion, written by Michelle Knudsen and illustrated by Kevin Hawkes, has a timeless quality and moral appeal that will assure it's place in the future lists of classic storybooks for children.
When a lion shows up for storytime, Miss Merriweather, the head librarian, makes it clear that the lion can only stay if he follows the rules. That includes being quiet; in other words, No Roaring. The lion loves storytime and visits the library every day. He follows all the rules and even comes early to help Miss Merriweather. One day, though, something bad happens and the only way the lion can help is by making a great big roar. The sad lion leaves the library because he knows he has broken the rules. Finally, the lion learns that "sometimes there is a good reason to break the rules" and makes a joyous return to storytime at the library.
Knudsen's character development is superb. In just a few short sentences, we "know" Miss Merriweather, her assistant Mr. McBee, and a lion who never says a word. Hawke's illustrations are just as exceptional. The pictures, in their soft, muted tones, provide rich scenery and abundant expression. You can easily see everyone's surprise to see a lion in the library, the lion's happiness to be helping in the library, and the lion's sadness when he thinks he cannot return to the library.
A visit to the library produces heartfelt lessons in following (and not following) rules in the endearing tale Library Lion. I highly recommend Library Lion.
---
Related Articles:
Book Review: Riley and Rose in the Picture

Help Your Children Love Reading

Book Review: Bad Dog Max!

More articles...