Rec Room Records, April 2005
DVD, 40 minutes
Rating: Not Rated
ASIN: B0006DOQ9C
Recommended Ages: 2 - 7
More Information:
Amazon.com
Review by Sherri Allen: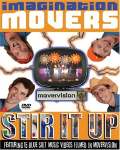 Do you want your children to listen to songs filled with irresistable energy and positive messages that you can enjoy, too? Do you want them to get up and move -- dancing, clapping, hopping, sliding and stomping? Of course you do, and that's why you need to get them Stir It Up, the first DVD released by the award-winning children's group Imagination Movers.
Stir It Up presents 15 songs in a mix of MTV-style (yet child appropriate) videos and performances from their live shows, with a few goofy skits added for fun. The songs successfully blend kid-friendly themes with a bouyant mix of hip/hop, rock, rockabilly, old school R&B, reggae and calypso beats. The choreography is simple and uncomplicated, making it easy for children to get on their feet and join in the fun.
So, by now you've figured out I like Stir It Up, but the true test of a children's DVD is whether children like it. Stir It Up not only passes that test, it gets an A+ and extra credit! The first time I played the DVD for my distracted 3-year old, she was moving and grooving with the Imagination Movers seconds into the high-energy first song, "Recipe (Stir It Up)." She was encouraged to "Reach high, think big, work hard, [and] have fun" in "Calling All Movers." She found out bedtime doesn't have to be scary listening to "I Want My Mommy" and even learned that cleaning up can be fun from "Clean My Room." As soon as the DVD ended, she was begging me to "play it again, Mommy." Best of all, Stir It Up has survived the fickleness of a 3-year old, constantly remaining my child's favorite DVD for the past few months.
The sound and video are not as slick and polished as bigger-budget DVDs, but that doesn't matter. Children love the Imagination Movers and they love Stir It Up! Stir It Up is a must-have for your child's DVD library.
---
Related Articles:
DVD Review: Here Come the ABCs

Book Review: Riley and Rose in the Picture

DVD Review: Dora the Explorer - Dora's Ultimate Adventure Collection

More articles...